Travel Clinic
Travel Doctor vaccinations& immunisations Brisbane CBD
---
The number of doses for Rabies vaccination has been reduced from 3 doses to only two doses a week apart. By being pre-vaccinated you avoid having to find a provider of RIG (Rabies Immunoglobulin) which is very expensive and unavailable in underdeveloped countries.
Contact our friendly Travel Doctor Clinic Brisbane on 3211 3611 for advice and treatment.
At CBD 7-Day Medical Centre, we believe that travel broadens the mind. Whether you're 18 or 80, travelling to new places and experiencing new ways of life is something everyone should do.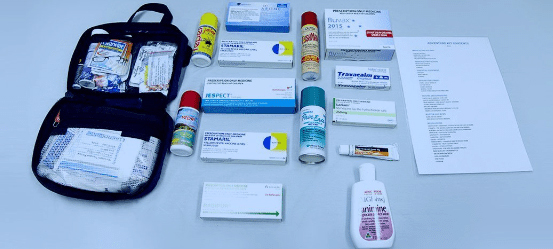 Our Travel Doctor is one of the founding partners of.Travel Clinics Australia, the largest provider of Travel Medical Services in Australia with 55 travel medical clinics nationwide.
Travel Doctor Clinic
The vaccinations required will vary for each country so for a broad outline of the possible requirements of your destinations, please call 07 3211 3611. Alternatively, visit www.travelclinic.com.au for a general overview.
We offer a one stop Travel Clinic service with all vaccinations, medications, malaria prophylaxis, first aid kits and Korjo travel accessories.
Vaccines in stock and available when you visit
We stock all necessary vaccinations in the clinic, including Yellow Fever vaccine, Rabies and Japanese B Encephalitis. As a founding partner of Travel Clinics Australia (the largest provider of travel health services, general medical practice and occupational health services in Australia) we always have a large stock of all the vaccines that we offer. 
Our buying power of 55 Travel Clinics Australia-wide guarantees that you will pay the lowest vaccination prices. In fact, we keep all vaccinations in stock, even when there is a shortage, as we are guaranteed supply nationally. We are a WHO accredited Yellow Fever vaccination centre.
We also carry stocks of Japanese B Encephalitis, Rabies vaccinations and Q Fever Vaccinations.
Travel Shop products available:
Preventative stockings for Deep Vein Thrombosi.
First aid kits ranging from basic syringe and gastro kits to comprehensive adventure travellers medical kits, including medications.
We also provide suturing kits for adventure travelers.
Water purifiers.
Malaria prophylactic medications and self-testing kits.
Mosquito nets.
Sanitising hand gels.
Wide range of korjo travel accessories.
Travel and Pre-deployment medicals
For corporate travellers (as well as others), we conduct comprehensive pre and post travel medicals. We also design and print a range of handy vaccination booklets and pocket medical guides. These are regularly upgraded by our specialist Travel Doctors. These are also available for purchase by other medical centers, hospitals and university health services within Australia and worldwide.
LEVEL ONE - GUT KIT
- $120
GASTRO-STOP- DIARRHOEA "STOPPER" AFTER THE FIRST 24 HOURS
STEMETIL- FOR NAUSEA, VOMITING AND MOTION SICKNESS
AZITHROMYCIN- ANTIBIOTIC FOR MORE COMPLICATED DIARRHOEA
SIMPLOTAN- FOR SEVERE DIARRHOEA
GASTROLYTE- REHYDRATION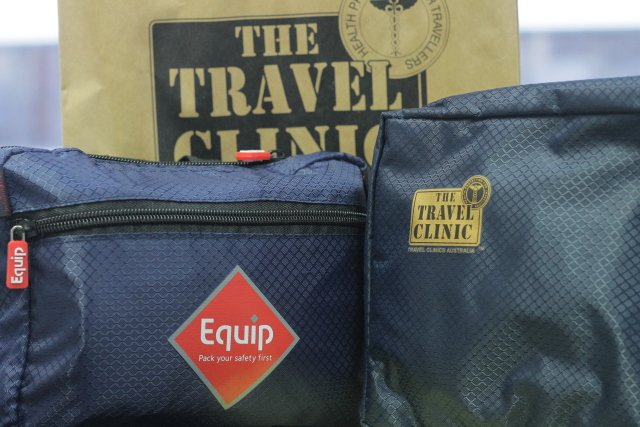 LEVEL TWO - INTREPID KIT
- $170
WITH THE BASE COMPONENTS OF THE GUT KIT, THE INTREPID KIT ADDS
CLARATYNE- ANTI-HISTAMINE, NON DROWSY
RULIDE- ANTIBIOTIC FOR CHEST INFECTIONS
BACTROBAN CREAM/OINTMENT- TOPICAL ANTIBIOTIC FOR SKIN INFECTIONS
NUROFEN ZAVANCE- PAIN RELIEF
SOFRAMYCIN EAR/EYE DROPS- FOR EAR OR EYE INFECTIONS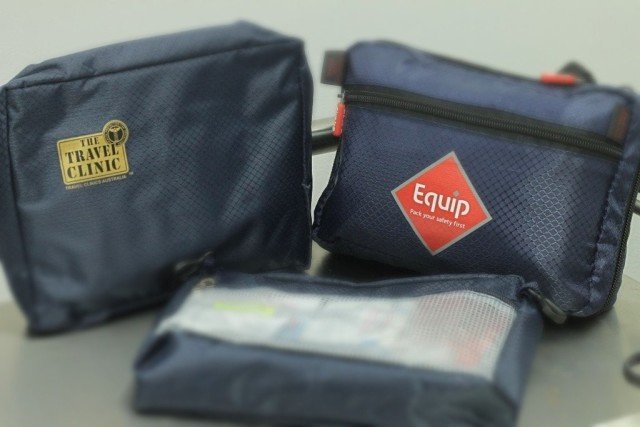 LEVEL THREE - ADVENTURE KIT
- $230
THE ADVENTURE KIT CONTAINS THE MEDICATIONS THAT MAKE UP THE GUT KIT BUT WITH THE FOLLOWING ADDITIONS
CLARATYNE- ANTI-HISTAMINE, NON DROWSY
RUDLIDE - ANTIBIOTIC FOR CHEST INFECTIONS
PARACETAMOL- PAIN RELIEF AND TO REDUCE FEVER
COLOXYL- STOOL SOFTENER
STREPSILS- FOR SORE, INFLAMED THROATS
NON MERCURY THERMOMETRE
BACTROBAN OINTMENT/CRYSTADERM CREAM
LENS WIPES
EAR PLUGS
LIP BALM
MEDICAL AND KIT INFORMATION
CONTENTS BOOKLET
EMERGENCY ACTION CARD
FIRST AID BOOKLET
PRESCRIPTION MEDICATION GUIDE
PERSONAL PROTECTION
PROTECTIVE GLOVES X2
ANTISEPTIC WIPES X4
CONDOMS X2
ESSENTIAL EQUIPMENT
TWEEZERS
SAFETY PINS X2
SCISSORS
BLISTER AND BURN
BURN AID GEL SACHET
OPEN WEAVE ADHESIVE DRESSING
WOUND TREATMENT
STERILE GAUZE SWABS X4
COTTON TIPS X2
IODINE SWABS X4
NORMAL SALINE
CURVED STERILE IRRIGATION SYRINGE 10ML
WOUND AND BANDAGING
ELASTIC GAUZE BANDAGE 5CM X 4M &7.5CM X 4M
CREPE BANDAGE - HIGH QUALITY ELASTIC 10CM X 4M
FLEXIBLE BANDAGE STRIPS X10
KNUCKLE DRESSING
TRIANGULAR BANDAGE/SLING